Rose of Sharon Acres Blog
Thursday, January 21 2016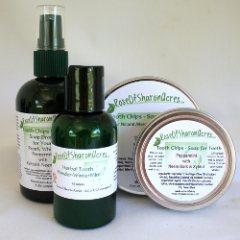 Teeth that crack are a real problem so it's important to keep teeth moist to prevent cracking. But how do we ensure that it's done right? Glycerin can be very instrumental in this process but are all glycerins created equal? NO!!
Synthetic glycerin, known on ingredient labels as Propylene glycol, is highly irritating to the skin and should be avoided. The Cosmetic Safety database reports this on this ingredient: The Agency for Toxic Substances and Disease Registry reports this substance causes effects on the blood at very high doses in laboratory animals. One thing that impacted me was 'laboratory animals' and the other that it affects 'blood' (at high levels). If you injest daily, would that fit? Just a question to ponder.

Vegetable glycerin on the other hand, is a natural occurring by product of soap that is created from the saponification process . It is a rich emollient, humectant and lubricant naturally extracted from vegetable oils.

So what difference does it make in regard to our teeth? The synthetic glycerin coats your teeth with a chemical substance which would take 27 rinses to remove from your teeth according to Gerard F. Judd, Ph.D., Chemist, Researcher for 18 years and Professor of Chemistry for 33 years. The impact of that is trapped bacteria and a host of dental issues. Natural glycerine only takes a few rinses to remove but leaves the moisturizing benefits behind.

The simple cleaning process of using 'Soap For Teeth' not only cleans your pearly whites, but also allows nutrients from your saliva to nourish and re-enamelize your teeth. Healthy teeth come from Natural Products that don't infect your bloodstream with toxic chemicals.

Happy Brushing!